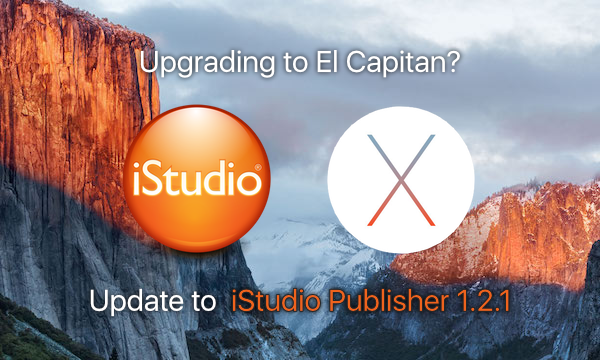 To run iStudio Publisher on OS X 10.11 El Capitan, you must install the latest iStudio Publisher 1.2.1, which is available as a free update. Everyone should update, irrespective of the version of OS X you are running.
iStudio Publisher is available as an App Store Edition (available from the Mac App Store) and a Website Download Edition (includes all licensing options we sell from our website store). You will need to update whichever edition you're using.
You can update the App Store Edition via the App Store, or update the Website Download Edition by checking for updates via the Help menu. Users occasionally report having installation problems, which is discussed here.
Fresh installs are available from here:
App Store Edition: www.istudiopublisher.com/AppStoreEdition
Website Edition: www.istudiopublisher.com/WebsiteEdition