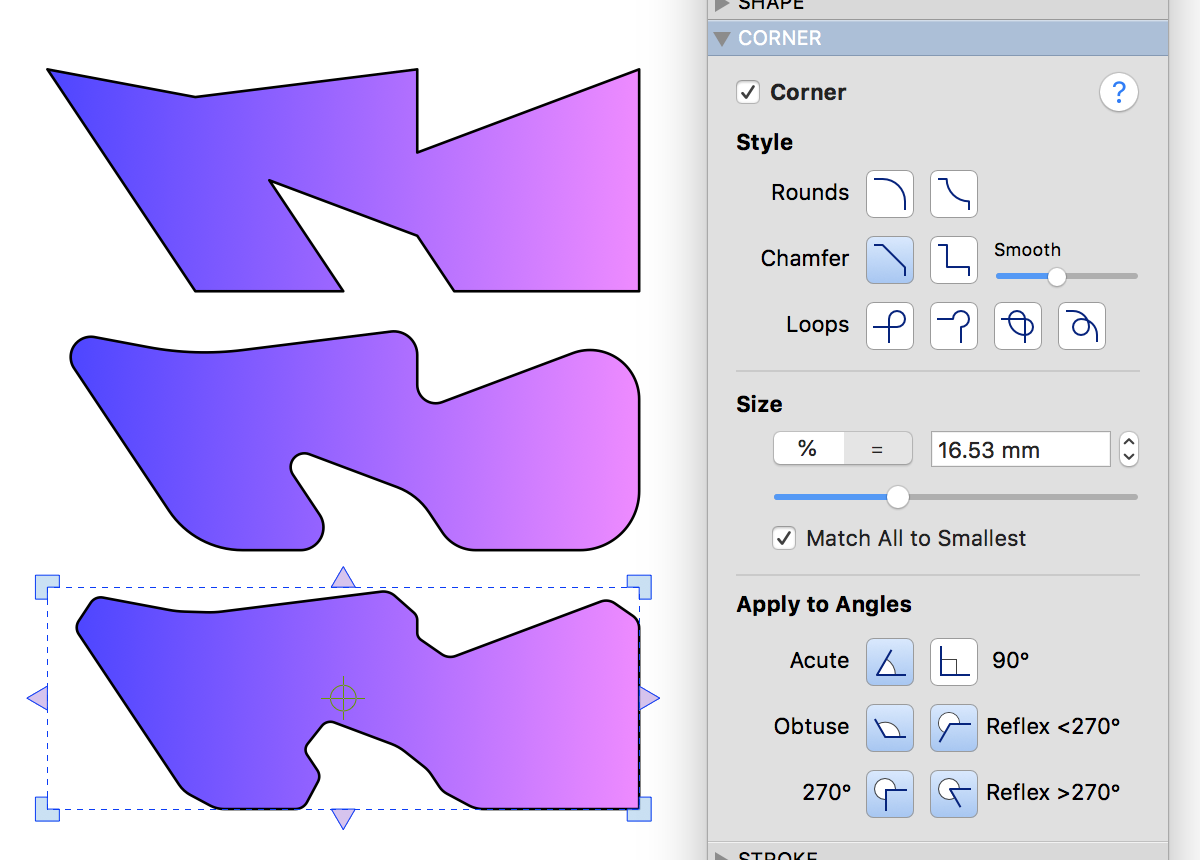 We're getting very close to completing iStudio Publisher 1.4, which is now in final testing and should be released in the next week or two. It's taken longer than we hoped, but we're really excited about the new additions and think you'll love them too!
iStudio Publisher 1.4 contains a bucketload of new features, improvements and minor fixes. Here are some highlights of what's coming your way soon.
Corner Inspector
Add corner styles to any shape vertex (where two straight lines meet), and create a huge range of inspiring shapes with ease. Choose from: radius, scoop, chamfer, notch, and several loop designs. Adjust corner size, smoothing, apply to vertices of any angle, and select which angle ranges to include. Corners retain their proportions as shapes are modified.
Info Bar
All shape tools and drawing tools have been enhanced with keystroke constraints, to provide proportional resize, resize straight line segments along their own axis, resize about the center, ignore snap grid, constrain rotation angle to 5 degrees, and rotate about opposite corner. The new context-sensitive Info Bar identifies all available options.
'Sticky' drawing tools and library shapes
The Caps Lock key now persists the selection of all drawing tools and library shapes - select once and draw many.
Export any document as a PDF file, with reader spreads
Reader spreads (also referred to as two page spreads) display a document as it appears when assembled as a booklet or magazine, with the first page on its own followed by facing pages side-by-side.
Pinch to zoom when using a trackpad
There's also a new combined Zoom Tool.
A huge thank you for all your kind words, comments and suggestions, and especially to our beta testers. If you would like to try the final 1.4 beta please contact Support and we'll be delighted to send you a download link.
For the latest news about iStudio Publisher 1.4 connect with us on Twitter and Facebook.
Best wishes from the iStudio Team